2015 Step Up Silicon Valley Community Update
December 21, 2015

Categories:
Dear Community Friends and Partners,
Thank you for all that you do to help our community members find pathways out of poverty. Your willingness to work together to seek innovative solutions and possibilities offer hope and opportunity for those in need to reach self-sufficiency. Throughout 2015, our community has worked together to explore and pursue innovative systems change initiatives. This year, our collaborative efforts have led to:
the County's implementation of the first Pay for Success project in California: Project Welcome Home,
College Savings Circles in partnership with Silicon Valley Education Foundation (SVEF), and
polling to modernize the San Jose Business Tax, in partnership with Professor Scott Myers-Lipton.
These are but a few examples of the potential of community collaboration.
A special thank you to our funders and supporters, including eBay Foundation, Applied Materials Foundation, Cisco Foundation, US Bank, and our individual sponsors– Michael & Mary Ellen Fox, Marcos & Denise Herrera, Agnieszka Winkler & Art Lund, and Melissa Greer for making these efforts possible.
The following is a glance at our work throughout 2015 within the Step Up Strategic areas:
Convening
Community Action Poverty Simulations (CAPS):
Community Action Poverty Simulation (CAPS): Step Up facilitated 19 Community Action Poverty Simulations with hosts ranging from community leadership groups to high schools, religious organizations, and universities. Impacting an estimated 800 individuals, the simulations immerse participants in the harsh reality of a Silicon Valley that grows in disparity as much as prosperity.
Learning and Development: 
In February, Step Up invited Professor Scott Myers-Lipton of San Jose State
University to kickoff this year's Learning & Development Series. His research on the Economic Bill of Rights garnered the interest of over 30 poverty advocates in attendance. Interested advocates met to develop an actionable policy advocacy project to increase living wages in Silicon Valley known as "Retooling the San Jose Business Tax" that Step Up and Prof. Myers-Lipton are continuing to collaborate on.
Social Innovation Leadership Forum: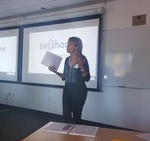 In partnership with San Jose State University, Step Up held the fourth annual Social Innovation Leadership Forum (SILF) to address the need for affordable housing in Silicon Valley. The participants who attended the half-day forum gained new insights into the community's affordable housing ecosystem and deepened cross-sector collaborative relationships.
Advocacy
Retooling the San Jose Business Tax:
Our latest advocacy campaign seeks to rebuild San Jose's basic infrastructure (street maintenance, pothole repair, police, fire, parks, libraries, and youth and senior programs) by modernizing the San Jose Business tax. In late November to early December, a scientific poll was conducted by the Applied Research Center at San Jose State University, with the support of students, to determine whether or not voters support the modernization of San Jose's business tax through a gross receipts tax. The final report will be written soon, but the early indication is that there is overwhelming support to modernize San Jose's Business Tax.


Systems Change Incubation
Pay For Success: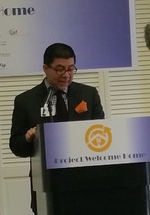 On June 23, 2015, the Santa Clara County Board of Supervisors unanimously approved $6.9 million in financing over a six-year period for Pay for Success for Chronic Homelessness: Project Welcome Home. The funding will allow lead agency Abode Services to provide housing and other supportive services to those who are the most frequent users of County resources. Project Welcome Home is the first Pay for Success Project in California.

1,000 Out of Poverty:

1,000 O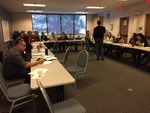 ut of Poverty case managers came together for an all-day workshop to co-create a project plan on how they can best work together for the larger purpose of the initiative and put it into action. Case managers reflected on the impact of their work on people's lives and how they see their role in the overall purpose of the pilot to get their clients out of poverty. They focused on the pilot's vital components of success: the five dimensions of poverty matrix, data collection, the referral system, and information sharing. Success stories, additional resources, and specific challenges were shared and the meeting concluded in an agreement to continue to help clients find pathways to their success and self-sufficiency. 

College Savings Circle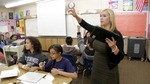 The Silicon Valley Education Foundation in partnership with EARN and Step Up Silicon Valley is launching a pilot Savings Circle program in East Side Alliance. The purpose of this pilot project is to support the goal of going to college for the mostly lower income, marginalized and immigrant communities of East San Jose. The College Savings Circle is an easy and self-empowering platform where parents and kids take charge and set their own goals in terms of timeframe and the amount they can afford to save for college.

Again, thank you and we look forward to the opportunity to continue our work with you in 2016.
Happy Holidays,
Almaz Negash